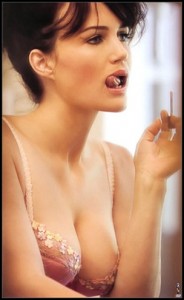 You don't feel like going to a bar, maybe you just got out of a longer relationship and no longer know what bars to go to in your city, maybe you never had any success in the bars anyway… The fact is you are still a man and living to long without sex isn't healthy. So you start spending money on dating sites promising to deliver hot babes, you spend hour after hour contacting girls online but never get lucky. What are you doing wrong?
First of all you haven't realized how money is made for the people behind the sites, they want you to be a member for as long periods of time as possible… Helping you actually find someone is not their priority number one.
Secondly, what sites did you become a member of? Probably those who promised to deliver what you wanted: Sex. Now you may see this as a smart thing to do, and the right thing as well, why wouldn't women looking for just sex be on those sites as well? Now you probably heard it before but as you are reading this I better tell you again: Women don't think like men, we are different, understanding this really is step number one.
Look into the sites again and try to do it from a womans perspective: Would you, as a woman, become a member here? Would you, as a woman, be able to be a member here without feeling ashamed or get a slutty mark if your friends and family found out?
My guess is that you start finding completely different sites now. The ones posting pictures of halfnaked porn models probably don't attract women in any larger extent. Neither the ones openly suggesting their members may here find a slut for the night, beeing that slut just isn't that exciting and really don't comply with what a women in general want out of a romance, how dirty and kinky as she is.
Instead you should focus on the normal dating sites, sure they dont promise sex, sluts, or anything like that… But usually they do suggest that a romance might be an option? In a womans ear that's the same thing. Lesson learned, you want a romance. By all means you want it right away and you want it to be very short in time mabye… But still it's what you should be interested in and what you should be looking for.
Number two is also quite logic, as a man you will almost always have to pay for your membership. Usually there are several options like standard, medium and premium. Perhaps the premium option sounds good, it doesn't cost a lot extra and so on… But how cool is it to be a premium member of a datingsite? It's not a nightclub. Stay with the cheapest, stay cool.
And before you even become a member, do this easy test: Try to become a member as a woman. Many sites charge less for women or nothing at all and those are in general better for your purposes. The ones charging equally might be better for finding a true love but what you want is a site with a lot of female members and then any cost is relevant. It actually comes down to the same thing as before: It's more OK for a woman to be a free member then a paying member. It gives her the possible excuse: "It was free so I thought why not?".
Now you found a good site, you did the test and you are a member. Who should you contact? If you want it quick try single mothers, they don't have a lot of time to spend playing games but rather want to get to the point as soon as possible, it was a long time since they got compliments and they don't feel very sexy after the pregnancy, thus they are very thankful for very little. The child always comes first, she don't have the time or interest to annoy you when you don't want them to. And seriously, that talk about the body never looking good again after carrying a child is mostly bullshit. You might have seen some extreme examples in papers selling skincare products for women but it's not the truth. Most of them look perfectly nice again after a few monhts.
/Drake